What Sets Glenwood Springs, Colorado Apart From Most Mountain Towns?
The answer is simple: Water. It's the defining element that differentiates Glenwood Springs from other Colorado destinations.
News
-
updated: Mar 20, 2017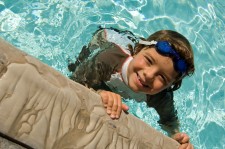 What comes to mind when you think of Glenwood Springs, Colorado? Chances are it's the historic hot springs pool, a geothermal sensation since it opened to the public in 1888. Heated under pressure by forces deep within the Earth, the water from the Yampah spring flows into and fills the world-famous Glenwood Hot Springs Pool where it provides the ideal destination for those seeking a family-friendly vacation.
In addition to being a Colorado hot springs heavyweight, Glenwood Springs is a place where water in one form or another has shaped the town's past and continues to define where people go and what they do. For instance:
 ·         Glenwood Hot Springs. Considered to be the world's largest mineral hot springs pool, Glenwood Hot Springs is the first stop for many visitors to Glenwood Springs.
·         River Activities. Glenwood Springs has not one, but two rivers. The Roaring Fork and the Colorado Rivers provide many recreational options including Colorado whitewater rafting, fly fishing on Gold Medal-rated waterways and play-boating on the acclaimed G-Wave at the Glenwood Springs Whitewater Activity Area.
·         Hanging Lake. Besides soaking in the Hot Springs Pool, another all-time favorite Glenwood Springs activity is hiking to this crystal clear lake with a cascading waterfall.
·         Glenwood Canyon. Carved by the Colorado River, scenic Glenwood Canyon is located along I-70 and has four rest areas with easy access to riverside biking and walking trails.
·         Glenwood Caverns. The receding waters of an ancient sea left behind pristinely preserved cave formations in the porous limestone rock. Guided cave tours at Glenwood Caverns Adventure Park take visitors into spectacularly decorated underground rooms.
·         Beer. Glenwood Springs' municipal water comes from No Name Creek. Pure mountain water is a key ingredient in Glenwood Canyon Brewpub's award-winning beers, including their No Name Nut Brown Ale. The Brewpub and other Glenwood Springs dining experiences are just a short walk from the Glenwood Hot Springs Lodge.
For a full immersion experience, book a Waves & Caves package which bundles Glenwood Hot Springs lodging, admission to the Hot Springs Pool and breakfast at the poolside restaurant, with a cave tour at Glenwood Caverns Adventure Park. Book packages and learn more at www.hotspringspool.com.
---
Categories: Tourism, Resorts, Vacations and Travel
Tags: Colorado hot springs, Colorado whitewater rafting, dining in Glenwood Springs, Glenwood Canyon, Glenwood Caverns Adventure Park, Glenwood Hot Springs, Glenwood Springs activities, Glenwood Springs Colorado, Hanging Lake, things to do in Glenwood Springs
---
Glenwood Hot Springs
401 North River Street
Glenwood Springs, CO 81601
United States