Warm and Bright: Glenwood Hot Springs Switches On Their Winter Lights
Festive holiday lights illuminate the historic Glenwood Hot Springs this winter, bringing warmth and cheer through an annual celebration.
News
-
updated: Nov 29, 2017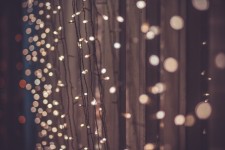 As part of an annual tradition, Glenwood Hot Springs Resort is bringing back its "Winter Lights" celebration. Combining twinkling bulbs with historic buildings, the resort is reinforcing holiday cheer—winter's darkest days will be glowing for months to come.
The town of Glenwood Springs is going all out this year with their light display, starting with the Resort.
Thousands of lights now adorn the Glenwood Hot Springs property, thanks to Carbondale-based West Side Lighting. "Our goal is to create a stunning lighting display that first and foremost delights the onlooker," said Zack Smith, lighting designer and owner. In conjunction with the bulbs and strings lining downtown—rumored to have doubled this year—Glenwood Caverns' Winter on the Mountain display, plus all of 6th Street business decorations, Glenwood Springs is full of LED warmth and cheer. 
The Resort has continued to focus on green initiatives, by requiring the lights to meet energy efficient standards. Smith used only LED bulbs, which have a lifespan of approximately 100,000 hours (versus 3,000 hours for incandescent bulbs). These decorations are consuming 80 to 90 percent less energy!
Glenwood Hot Springs Resort is illuminating the snowy days to come, with beads of lights lining its buildings, including the lower complex, historic stone bathhouse and the Lodge. Two trees will also be decorated in white and blue, standing 20 and 80 feet tall. Out of respect for nearby homeowners, Glenwood Hot Springs chose to avoid lighting areas that directly faced residences. Lights were also omitted on buildings as viewed from the pools to preserve the resort's traditional ambiance for guests enjoying an evening soak.
Glenwood Hot Springs' Winter Lights will shine on until the vernal equinox in March. Find out more about Glenwood Hot Springs and make lodging reservations at www.hotspringspool.com. 
---
Categories: Vacations and Travel, Tourism, Travel, Transportation, and Hospitality News
Tags: Christmas lights, Glenwood Hot Springs, Glenwood Hot Springs Resort, Glenwood Hot Springs Winter Lights, Glenwood Springs, Glenwood Springs Lights, holiday lights, winter lights
---
Glenwood Hot Springs
401 North River Street
Glenwood Springs, CO 81601
United States