Trish Pickett Receives Glenwood Hot Springs Devereux Award
Trish Pickett, the Lead Cashier at Glenwood Hot Springs was named as the latest recipient of the Devereux Award. The award honors employees in leadership positions who demonstrate exceptional skills that align with the resort's mission statement which is "To make people feel better."
News
-
updated: Apr 10, 2017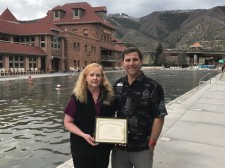 Pickett has been doing just that for 20-plus years at Glenwood Hot Springs. In her role as Lead Cashier at Pool Admissions, she is the friendly face that greets guests and she's a role model for the employees she oversees. Her positive attitude and solution-oriented style is a win-win for visitors and colleagues alike.
She was nominated by her manager, Steve Matzl. "Trish is indispensable; a team player in every sense. She has cross-trained to work in nearly every department at Glenwood Hot Springs," said Matzl. "As Lead Cashier, Trish is also a first point of contact with guests. Her personal motto is to provide the best customer service in the Roaring Fork Valley!"
Trish is known for her willingness to jump into any area and help out when needed. She has been known to hop in a shuttle to help transport guests, pitch in at the Athletic Club front desk and she is especially good at smoothing out disagreements. She is well known to Glenwood Hot Springs guests who come back year after year, as well as returning groups. Trish has a special place in her heart for the National Disabled Veteran's Winter Sports Clinic and looks forward to their annual visits, making sure their time at Glenwood Hot Springs is a great success. Glenwood Hot Springs employees across the board know, "If I am not sure what to do, Trish is a go-to person and will help me figure it out," explained Pam Willis, Human Resources Director and Assistant Chief Operating Officer at Glenwood Hot Springs.
The Devereux is awarded quarterly and recognizes qualities such as problem solving, accountability, effective communications style, team building and professionalism. Named after Walter Devereux, the wealthy mining engineer whose vision it was to create an international geothermal spa destination. Under his leadership, he rallied investors and literally rerouted the mighty Colorado River to open the world's largest hot springs pool in July 1888.
The next Devereux Award winner will be announced in June.
---
Categories: Tourism, Travel, Transportation, and Hospitality News, Business
Tags: Colorado hot springs, Glenwood Hot Springs, Glenwood Hot Springs employees, Glenwood Hot Springs Pool
---
Glenwood Hot Springs
401 North River Street
Glenwood Springs, CO 81601
United States