Tobie Palmer Steps Up to New Role at The Shop at Glenwood Hot Springs Resort
The Shop at Glenwood Hot Springs Resort has a new retail manager. Promoted from within, Tobie Palmer takes the helm at swimwear-centric store.
News
-
updated: Dec 20, 2017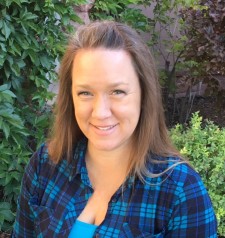 Working as the interim Retail Manager at The Shop at Glenwood Hot Springs Resort since July, Tobie Palmer was recently officially named to the position. As the Assistant Manager/Buyer for the previous two years, Palmer was well-prepared to move into the position.
In her new role, Palmer will oversee to day-to-day operations and work at the executive level. Her responsibilities include planning, retail forecasting, budgeting, cost control and purchasing.  Palmer hopes to position The Shop as one of the most desirable swim and apparel outlets here in the Roaring Fork Valley and beyond. "We have the largest and most comprehensive swimsuit collection on the Western Slope," Palmer said. "It's also important to me that I bring in and continue to carry a selection of products that are locally produced, made in the USA and contribute to both local and global causes."
Palmer knows that cultivating success is a group effort. She is most proud of her staff which includes a team of nine women with a combined 52 years of retail experience. "They are integral part of our business, our community and our success," she said. 
Prior to coming to Glenwood Hot Springs, Palmer managed a large photography company, supporting a team of over 50 managers across 13 states in 38 territories. Palmer was also the first recipient of the Devereux Award, a Glenwood Hot Springs Resort accolade which recognizes those within the company who demonstrate exceptional management skills that align with the resort's mission statement:  "To make people feel better."
---
Categories: Hospitality, Industry News, Travel, Transportation, and Hospitality News
Tags: Glenwood Hot Springs, Glenwood Hot Springs Pool, Glenwood Springs, Retail Manager Promotion, The Shop, Tobie Palmer
---

Vicky Nash
Resort Trends, Inc. - tourism communications, Glenwood Hot Springs
Glenwood Hot Springs
401 North River Street
Glenwood Springs, CO 81601
United States