Sunset Sounds at Glenwood Hot Springs Starts June 20
Add soothing sounds to your Glenwood Hot Springs soak with poolside Tuesday night concerts.
News
-
updated: Jun 14, 2017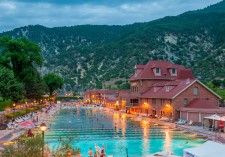 Starting June 20 and running through August 29, from 6 to 9 p.m., Glenwood Hot Springs sets the stage for multiple evenings of relaxation.  Hitting the sensory sweet spot, visitors can soak in the healing hot springs and listen as the Roaring Fork Valley's best artists play melodies ranging from smooth jazz to world beat and bluegrass.  Other than the cost of admission there's no charge; and after 6 p.m., admission rates dip to just $17.75.
2017 Sunset Sounds Lineup
June 20 – Vid Weatherwax. Known for his soulful vocals and wizardry on the keyboards.
June 27 – Bryan Savage with Vid Weatherwax. The award-winning sax maestro plays it all – smooth jazz, blues, funk and rock.
July 4 – The Leonard Curry Trio. A local favorite showcasing Americana, bluegrass, swing, Cajun and country.
July 11 - Larry & Patti Herd. This soft rock duo features exceptional guitar and mesmerizing vocals.
July 18 – Suzanne Paris & John Michel. Mountain rock and soul at its best. Singer/songwriter, Paris is known for her sultry singing voice.
July 25 – Aspen 440. This vocals-driven duo will knock your socks off, especially with their covers of Little Big Town.
Aug. 1 – Chris Bank & Mark Johnson. Among the Valley's best for smooth jazz, urban grooves, vocals, sax and percussion.
Aug. 8 - The legendary Bobby Mason & friends.  A music industry icon, Bobby Mason has played with national acts including the Nitty Gritty Dirtband and The Eagles.
Aug. 15 – Vid Weatherwax. A favorite returns for a repeat performance.
Aug. 22 – Josefina Mendez with Joe Fox. World beat from swing to bossa nova and tangos to boleros, Mendez sings in English, Spanish and Portuguese.
Aug. 29 – Vidicus Maximus. Feature artists Vid Weatherwax, Bryan Savage, Suzanne Paris and Hap Harriman come together for a show-stopping season finale.  
Find out more about Glenwood Hot Springs and book lodging at www.hotspringspool.com.
---
Categories: Vacations and Travel, Live Performance, Travel, Transportation, and Hospitality News
Tags: colorado events, colorado music, glenwood, Hot springs, mineral springs, music, Tuesday nights
---

Vicky Nash
Resort Trends, Inc. - tourism communications, Glenwood Hot Springs
Glenwood Hot Springs
401 North River Street
Glenwood Springs, CO 81601
United States