Spa Treatments that Fend Off Winter
Baby it's cold outside—warm up to winter in Colorado with Spa of the Rockies treatments.
News
-
updated: Nov 12, 2018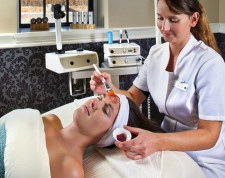 At Glenwood Hot Springs Resort the first flakes of the season have already fallen. By Thanksgiving, Colorado ski resorts will be covered with mountains of snow. Winter in Colorado is a glorious time of the year, especially if you like to get outside to revel in cold-weather activities like skiing, snowboarding, sledding, snowshoeing, snowmobiling and soaking in the world-famous Glenwood Hot Springs Pool. But even if you're a homebody, the cold outdoor climate combined with overheated interiors can take a toll on your skin.
Get the jump on winter and stay looking fabulous from head to toe with Spa of the Rockies treatments designed to nourish and heal. Colorado's high-altitude climate and low humidity literally draws the moisture from your skin, leaving you feeling dry, dehydrated, itchy and sallow-looking. It's not a pretty picture, but fortunately there is a remedy.
Spa treatments, like the ones featured at the award-winning Spa of the Rockies in Glenwood Springs, offer an antidote for lackluster epidermis. While there are many to choose from for winter-ready skin, some treatments outshine others. Here's what to look for when scouting out solutions that will leave your body looking luminous:
Hydrating. What do you do when you're thirsty? You down a glass of water, right? When your skin is flakey, itchy, extra oily or showing more fine lines than usual, it's crying out for moisture. Give it what it wants with spa treatments that are quenching. To target desiccated skin, Spa of the Rockies recommends body wraps such as the Wild Honey Steam Wrap and Rocky Mountain Mud Wrap; facials like the Intraceuticals Instant Face Lift or Cold-Pressed Botanical Radiance; and wellness nail treatments that feature paraffin wax to seal in moisture.
Exfoliating. This is a fancy word for a thorough scrub. If you don't exfoliate regularly, you might notice that your skin is rough or has an uneven texture or tone; it might look dull, flakey or irritated. These symptoms tend to be more pronounced in the winter months. For skin that glows all season long, go for treatments that smooth and refine. To put your best face forward, try the Advanced Multi-Active Facial or the Intraceuticals Express Lift. For maximum results, add on a Dermaflash Deep Exfoliation.
Relaxing. Just as seasonal weather changes take a toll on skin, so does stress—the holidays are upon us after all. If your friends are inquiring about your sleep habits of late, you might want to take them up on it when they suggest a girls' day at the spa. Relaxing with friends is a great way to destress. Join them for a therapeutic massage treatment at the Spa of the Rockies. Leave lighthearted and rejuvenated with treatments that remove toxins, offer comfort and restore balance. Try the Hemp Intensive Therapy, Mindfulness Massage, Salt Stone Renewal or Bamboo Rejuvenation.
Winter is coming. Get ready. Be radiant. Learn more and book your Spa of the Rockies treatments today at www.spaoftherockies or 877-947-3331.
---
Categories: Tourism, Vacations and Travel, Spas
Tags: Colorado, Glenwood Hot Springs, Glenwood Hot Springs Resort, Glenwood Springs, spa Glenwood, Spa of the Rockies, spa treatments Glenwood
---

Vicky Nash
Resort Trends, Inc. - tourism communications, Glenwood Hot Springs
Glenwood Hot Springs
401 North River Street
Glenwood Springs, CO 81601
United States