Spa of the Rockies Rolls Out Bliss-Filled New Menu
Restorative healing and wellness treatments are the focus of a new spa menu at the Spa of the Rockies located in the historic bathhouse at the Glenwood Hot Springs Resort.
News
-
updated: Jun 27, 2017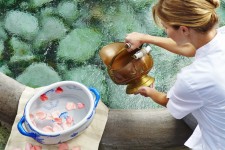 Revitalized, refreshed, and rejuvenated describes the Spa of the Rockies'  new menu, featuring a fresh collection of spa treatments and services; and yes, it's how you'll feel after our expert massage therapists and estheticians work their magic.
After nine award-winning years of making people feel wonderful by offering mineral hot springs therapy along with wellness-focused spa regimens, the Spa of the Rockies at Glenwood Hot Springs Resort recently added an assortment of therapeutic experiences to its already comprehensive menu of blissful treatments.
From touch therapy to pedicures, there are new items to choose from in every category on the menu. Each utilizes the highest quality, health-supporting, spa-rated products from companies our clients have come to know and love, like Zents, Kerstin Florian, Kneipp, Eminence, Intraceuticals, NuFace, Organic Male, and more.
Browse through the latest Spa of the Rockies menu in its entirety, including new offerings and full descriptions. Here's a quick preview of some of the recent additions:
●     Geothermal Wellness Signature Experience
●     Himalayan Salt Stone Massage
●     Four-Hands Medley Massage
●     21-Drops Aromatherapy Massage
●     Bamboo Massage
●     Herbal Rain Scrub
●     Potent Revitalizing Organic Facial
●     NuFace Illuminating Facial
●     Wellness Manicure & Wellness Pedicure
For guests who adore our original collection of massages, body treatments, facials, and nail services, customer favorites like the Altitude Adjustment and Classic Swedish massages—the Stonecrop Hydration Facial and Express Lift Facial—will remain on the menu along with many others.
To learn more and book a treatment or service at Spa of the Rockies, please visit www.spaoftherockies.com.
---
Categories: Vacations and Travel, Spas, Travel, Transportation, and Hospitality News
Tags: facial, glenwood hot springs, glenwood springs, massage, menu, spa of the rockies, wellness
---

Vicky Nash
Resort Trends, Inc. - tourism communications, Glenwood Hot Springs
Glenwood Hot Springs
401 North River Street
Glenwood Springs, CO 81601
United States