Spa of the Rockies' 21 Drops Aromatherapy Massage is Scentsational
For the ultimate in flower power, try 21 Drops Aromatherapy Massage, a holistic new treatment at Spa of the Rockies in Glenwood Springs.
News
-
updated: Jul 27, 2017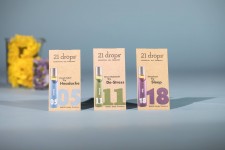 As fresh as a just-picked bouquet of blooms, 21 Drops Aromatherapy Massage is one of several recent additions to Spa of the Rockies' new spa menu. The treatment is so named because it features 21 Drops brand essential oils. Clients are encouraged to choose their own blend or consult with a skilled therapist to determine which will be the most beneficial. These essential oils are highly potent and contain medicinal ingredients sourced from the distillation of flowers, resins, leaves, roots, and seeds.
Each 21 Drops essential oil is numbered and named for its benefit. Spa of the Rockies guests can select from seven blends including #4 Detox, #8 Pain Relief, #9 Focus, #10 Calm, #11 De-Stress, #12 Uplift, and #14 Immunity.
Essential oils are made up of tiny molecules that possess powerful, remedial qualities. They can alter physical, mental, and emotional well-being and also trigger the body's innate healing processes. The best way to absorb the therapeutic components of essential oils is a combination of inhalation via the olfactory system and absorption through the surface of the skin.
With this in mind, your 21 Drops Aromatherapy Massage begins by deeply breathing in the aroma of the blend you selected. You'll feel the effects almost immediately. Next, your therapist will use Swedish techniques combined with essential oils to encourage relaxation and healing. Finally, near the end of the treatment, your therapist will cocoon your feet in warm towels infused with essential oils. This opens the pores, enabling essential oil molecules to enter into the bloodstream. The end result is a profound sense of wellness.
In need of a flower power pick-me-up? Book your 21 Drops Aromatherapy Massage today at www.spaoftherockies.com or call 970-947-3331.
---
Categories: Vacations and Travel, Spas, Travel, Transportation, and Hospitality News
Tags: 21 drops, aromatherapy, Glenwood Hot Springs, Glenwood Springs, massage, spa of the rockies
---

Vicky Nash
Resort Trends, Inc. - tourism communications, Glenwood Hot Springs
Glenwood Hot Springs
401 North River Street
Glenwood Springs, CO 81601
United States