Ring in the New Year with Fun and Games at Glenwood Hot Springs Resort
There's nowhere else like it for New Year's Eve! A night of wholesome family fun until the wee hours at the world's largest hot springs pool!
News
-
updated: Dec 18, 2017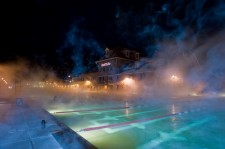 Ready, set, play! It's all fun and games starting at 7 p.m. on New Year's Eve, Sunday, Dec. 31, at Glenwood Hot Springs Resort in Glenwood Springs, Colo. This year the geothermal resort has a whole host of wacky events, games and competitions to keep kids of all ages entertained until the clock strikes midnight and the crowd cheers the arrival of 2018.
New Year's Eve is one special night, especially for those who want to celebrate in a family-friendly, alcohol-free environment, and it's the only night of the year that the pool stays open until 1 a.m.  When you hear the resort-wide announcements that kick off each event, head over to the event staging area beneath the Spa of the Rockies balcony and let the games begin!
 Glenwood Hot Springs Resort New Year's Eve Schedule of Events
7:00 p.m.
Handstand Contest
Ping Pong Scramble
8:00 p.m.
Biggest Cannonball
Best Dive or Dive Trick
Duck Relay
9:00 p.m.
10:00 p.m.
Crocodile Wrestling
Sharks & Minnows
11:00 p.m.
Our pool staff will be handing out party favors including noisemakers and hats while supplies last.
We'll have a drawing for prizes, including a Glenwood Hot Springs Resort Annual Pass. Stick around because the winner must be present to claim their prize!
Near Midnight
In addition to a loaded schedule of events, some Disney heroes have gone missing on the property and there's a reward for locating your favorite missing-in-action characters, so keep your eyes peeled!
On New Year's Eve, the Glenwood Hot Springs bathhouse will remain open until 1 a.m. and Hot Springs Hopper shuttle buses will operate continuously throughout the night until 1:30 a.m.
Make plans today to celebrate New Year's Eve at the one and only Glenwood Hot Springs Resort.
---
Categories: Vacations and Travel, Family Travel, Travel, Transportation, and Hospitality News
Tags: family friendly, Glenwood Hot Springs, Glenwood Hot Springs Pool, Glenwood Springs, hot springs pool, New Years Eve, New Years Eve events
---

Vicky Nash
Resort Trends, Inc. - tourism communications, Glenwood Hot Springs
Glenwood Hot Springs
401 North River Street
Glenwood Springs, CO 81601
United States