Rescue Squad: Glenwood Hot Springs Lifeguards Never Stop Training
Rigorous and regular training ensures Glenwood Hot Springs lifeguards are ready for anything.
News
-
updated: Feb 13, 2017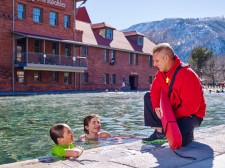 Drowning can happen in as few as 20 seconds. When a life-threatening situation arises, the public counts on lifeguards to act fast and decisively. Whether it's rescuing a swimmer in distress, treating heat exhaustion or performing CPR on a heart attack victim until an ambulance arrives; in an emergency there is no time to waste. Responding quickly and effectively in situations like these is the reason lifeguards at the Glenwood Hot Springs Pool spend extra hours honing their lifesaving skills.
For four hours every month, the Glenwood Hot Springs' thirty or so lifeguards attend mandatory in-service trainings. The hands-on sessions often stress seasonal pool safety. Practicing fully clothed immersion rescues in winter and water slide emergencies in summer are two examples.
But not every incident takes place in the pool. The world's largest hot springs pool covers a lot of ground, more than two city blocks. According to Pool Manager, Steve Matzl, "Lifeguards train at five separate sites on the property to build familiarity with every location and to have the highest level of efficiency when responding to an emergency away from the pool deck."
Lifeguards are certified by the American Red Cross (ARC). To keep their certifications current and their skills sharp, the monthly training also revisits such standards as CPR (cardio pulmonary resuscitation), AED (automated external defibrillator) and other critical first aid. The trainings also provide new techniques and educational information. Most recently, all Glenwood Hot Springs lifeguards completed an ARC update of Emergency Cardiovascular Care (ECC).
The Hot Springs Pool is also fortunate to have eight certified ARC instructors who are qualified to teach a range of Red Cross courses including ECC, as well as Lifeguard Certification, Basic Life Support and Bloodborne Pathogens Training.
During an emergency, responding swiftly and capably is critical for a positive outcome. Continuous training prepares Glenwood Hot Springs lifeguards to do just that. To find out more about Glenwood Hot Springs, visit www.hotspringspool.com.
---
Categories: Swimming, Sports Safety, Vacations and Travel
Tags: Colorado hot springs, Glenwood Hot Springs, hot springs lifeguards, hot springs safety, hot springs vacation
---
Glenwood Hot Springs
401 North River Street
Glenwood Springs, CO 81601
United States