Plan the Perfect Getaway for Couples
For a couples' retreat this autumn, slip away to Glenwood Hot Springs for a few romantic days and nights.
News
-
updated: Sep 21, 2017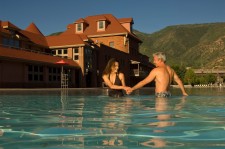 Make the most of fall weather, spectacular scenery, and hot springs in Glenwood Springs, Colorado. Treat yourself and your special someone to a getaway that will have you falling in love for the first time all over again.
The best romantic destinations have a sense of place. The historic Glenwood Hot Springs, with its castle-like stone bathhouse built in 1888, provides a dramatic backdrop for soaking in the world-famous geothermal waters. Admire Colorado fall foliage on the breathtaking mountains surrounding the pool. Even though sunny days and bright blue skies are the norm through October, there's a nip in the air—just another reason to cuddle. Evenings at the hot springs are also a beautiful and romantic time of day to melt away stress together.
Indulge in activities that will help you both relax. The Spa of the Rockies at Glenwood Hot Springs is an award-winning sanctuary where couples can unwind in tandem. Enjoy a welcoming footbath ritual on arrival, then side-by-side massages in treatment rooms imbued with upscale, old-world ambiance.
Get cozy in beautifully appointed rooms. The spa-like ambiance carries over to the guest rooms at the Glenwood Hot Springs Lodge. A soothing color scheme, cozy linens, and bath and body products from the Spa of the Rockies make your stay a true retreat getaway. Our romance package takes care of all the details —combining lodging, spa, and soaking with extras like champagne, chocolate truffles, and a restaurant gift card.
Add a culinary experience to remember. Glenwood Springs' main dining district is steps away. Just walk across the Glenwood Springs Pedestrian Bridge that spans the Colorado River for a memory-making meal. While the weather is still lovely, have a romantic dinner outdoors—beneath a sidewalk umbrella, on a skyline rooftop, or in a secluded courtyard.
Seize the moment. Fall in Colorado is fleeting; don't let this romantic season slip away. Make reservations for your fall couples' getaway today at www.hotspringspool.com.
---
Categories: Vacations and Travel, Spas, Resorts
Tags: Colorado hot springs, couples getaway, Glenwood Hot Springs, mountain getaway, romantic getaway, travel Colorado, weekend getaway
---

Vicky Nash
Resort Trends, Inc. - tourism communications, Glenwood Hot Springs
Glenwood Hot Springs
401 North River Street
Glenwood Springs, CO 81601
United States