New Sunny Soaker Pass: Unlimited Skiing, Unlimited Soaking
Glenwood Hot Springs has teamed up (once again) with Sunlight Mountain Resort for a collaboration that goes to extremes with limitless soaking and skiing all winter long!
News
-
updated: Nov 2, 2017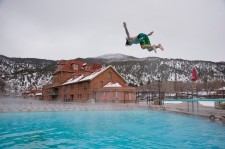 Ski all day, soak all night. Sounds amazing, right? Well now you can do both anytime you please during the 2017-18 ski season with the new Sunny Soaker Pass from Glenwood Hot Springs and Sunlight Mountain Resort.
Dubbed the Sunny Soaker Pass, the latest partnership between two of Glenwood's biggest attractions includes a pass to the Glenwood Hot Springs Pool and a season pass to Sunlight Mountain Resort. The combo enables pass holders to ski or soak anytime they want from Dec. 8, 2017, to the final day of the season on April 1, 2018.
To get your Sunny Soaker Pass, visit Sunlight's website at www.SunlightMTN.com. Prices vary depending on age.
Sunny Soaker Pass, $604, adults 18 to 64
Senior Soaker Pass, $424, ages 65 to 79
Student Soaker Pass, $454, ages 13 to 17
This isn't the first time Glenwood Hot Springs has offered a winning combo with Sunlight Mountain Resort; the Ski Swim Stay package, one of the best values and most well-known wintertime recreation and lodging packages in Colorado has been making a splash with visitors since its inaugural year in 1989. The package which bundles skiing at Sunlight Mountain Resort, swimming and soaking at Glenwood Hot Springs and overnight stays at the Glenwood Hot Springs Lodge is a hit year after year, especially with skiing families because kids under 12 ski for free. Ski Swim Stay packages run from Dec. 8, 2017, through March 31, 2018.
Glenwood Hot Springs is always looking for new, creative ways to help visitors soak it all in, and the Sunny Soaker Pass is just the latest. Learn more about Glenwood Hot Springs and book lodging at www.hotspringspool.com.
---
Categories: Vacations and Travel, Skiing, Travel, Transportation, and Hospitality News
Tags: Glenwood Hot Springs, Glenwood Springs, Glenwood Springs hot springs, Glenwood Springs skiing, ski and soak, sunny soaker pass
---
Glenwood Hot Springs
401 North River Street
Glenwood Springs, CO 81601
United States