Mother's Day & Beyond: Brilliant Ideas to Make Her Feel Special
Moms deserve to feel appreciated. At Glenwood Hot Springs and the Spa of the Rockies we know a few tricks to make her feel special on Mother's Day and all the other 364 days of the year!
News
-
updated: May 11, 2017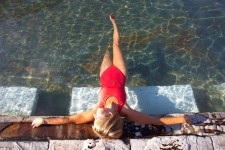 Mother's Day is the day set aside to recognize all of the sacrifices she's made for her family. It's the perfect time to thank her for all she does. You can also surprise her when she's least expecting it. Here are a few brilliant ideas for Mother's Day and beyond:
Give her a time out of her own with a spa treatment.
  Brilliant idea: Spa treatments run the gamut from skin-specific facials to healing body treatments and soothing massages. Think about what she would love and either call the Spa of the Rockies to schedule an appointment or buy her a gift card to use when she most needs a break.
  Brilliant idea: From May 12 – 15, at the Spa of the Rockies she can enjoy a day of relaxation and beautification with a 60-minute Classic Swedish Massage and a Dazzle Dry Manicure, plus all-day access to the Athletic Club and Hot Springs Pool and a special Zents gift for just $139.
Take time out to do something fun together and let mom choose.
Buy her that special item that she's been eyeing.
  Brilliant idea: Show her you've been paying attention and buy her that special piece of jewelry, fragrance, handbag or outfit
  Brilliant idea: Give her a little something now and later. The Shop at Glenwood Hot Springs is hosting a special sale in honor of mom. When you spend $150 at the Shop from May 12-14, you'll receive a voucher for a complimentary Signature Mineral Wellness Bath at the Spa of the Rockies which she can enjoy until June 15.
To make any day special for mom, find out all that Glenwood Hot Springs and the Spa of the Rockies have to offer.
---
Categories: Vacations and Travel, Tourism, Personal Travel
Tags: Glenwood Hot Springs, Mother's Day, shopping in Glenwood Springs, Spa of the Rockies, spas in Glenwood Springs, special occasions
---
Glenwood Hot Springs
401 North River Street
Glenwood Springs, CO 81601
United States