Glenwood Hot Springs Resort Recognizes Ann Hoban With Devereux Award
Glenwood Hot Springs named Spa of the Rockies' Ann Hoban as the newest Devereux Award recipient.
News
-
updated: May 14, 2018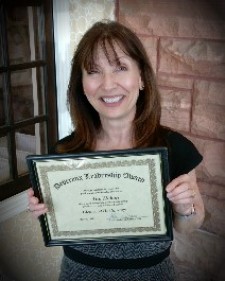 Glenwood Springs, Colo. (March 2018)—Ann Hoban is a core member of the Spa of the Rockies staff. As Assistant Spa Director, it falls to Hoban to make sure things are always running smoothly at the award-winning spa. Not always an easy task, but it's a role at which she excels and the reason she was selected to receive the Devereux Award.
With a full menu of spa and nail services, a steady stream of customers, a roster of employees to manage and a retail boutique to keep stocked with products, the Spa of the Rockies is a place with many, constantly moving parts. Apart from exuding professionalism at every level, Hoban has demonstrated a remarkable ability to juggle a variety of tasks, problem solve on the fly, build relationships with clients and staff members, as well as assist in administering the business end of spa management.
 "Ann is without a doubt deserving of this recognition for her unwavering commitment to excellence, exceptional leadership and the extraordinary guest service she has provided over the last five years working at Spa of the Rockies," Spa Director Holleigh Alexander-Ramsey said. "Ann is the backbone of the spa department and the one I can count on to flawlessly oversee the day-to-day operations with incomparable dedication to the success of our business and our team. Her consistency in fulfilling of our values proves how deserving she is of this prestigious award."
The Devereux Award is a semi-annual accolade that recognizes Glenwood Hot Springs Resort and Spa of the Rockies employees in managerial positions for exemplary leadership qualities, including accountability, effective communications style, team building, professionalism and problem solving.
About Glenwood Hot Springs Resort
Glenwood Hot Springs Resort is a historic Colorado landmark resort located along Interstate 70 at Glenwood Springs, approximately 165 miles (257 kilometers) west of Denver and 90 miles (145 kilometers) east of Grand Junction. Famous for its enormous hot springs pools, other amenities include the Spa of the Rockies, the Glenwood Hot Springs Lodge, an athletic club, a restaurant open for breakfast and lunch and a retail store specializing in swimwear. For more information, including press releases, a press kit, photos and a live web camera, please visit http://www.hotspringspool.com/misc/press-room or call 800-537-SWIM (7946) or 970-947-2955.
Media Contacts:
Jeremy Gilley, Director of Sales and Revenue
​Glenwood Hot Springs Resort/Spa of the Rockies
970-945-3324
jgilley@hotspringspool.com
or
Patsy Popejoy, Communications Director
Resort Trends, Inc. – tourism communications
317-509-7384
patsy@resorttrends.com
---
Categories: Tourism, Vacations and Travel, Travel, Transportation, and Hospitality News
Tags: Ann Hoban, Devereux Award, Glenwood Hot Springs, Glenwood Springs, Hot Springs Award, hot springs staff
---
Glenwood Hot Springs
401 North River Street
Glenwood Springs, CO 81601
United States