Glenwood Hot Springs Names Brian Jaimes New Devereux Award Winner
Glenwood Hot Springs Lodge front office manager Brian Jaimes shows up whenever he's needed, even in the middle of night.
News
-
updated: Aug 10, 2017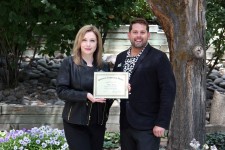 Glenwood Springs, Colo. (August 10, 2017) - Brian Jaimes' dedication to his job, co-workers, and guests is unmatched. As the front office manager at the Glenwood Hot Springs Lodge, Jaimes' duties span between everything from overseeing daily lodge operations to crisis management. It's why Glenwood Hot Springs named Jaimes a Devereux Award winner.
According to Jaimes' manager, Loretta Ayala, who nominated him for the award, "Brian embraces our core values— to make people feel better—by always thinking about our guests first." In her absence, Jaimes also acts as the manager on duty. In addition to supervising the front desk and lodging reservations, Jaimes can be counted on in a pinch.
Whether it's an employee that's flummoxed by a computer problem or a major crisis like a power outage in the middle of the night, Brian always shows up—even on days off, no matter the time. His proactive, empathetic communications style and customer service training kick in to help calm situations and reassure both guests and employees. "Brian is an advocate for getting to the root of problems so that they don't resurface in the future," said Ayala.
In addition to the Devereux Award, Jaimes' stellar job performance has also garnered accolades both internally and externally. His focus, workplace expertise, and affable demeanor have earned him the respect of his peers, visitors, and superiors. He was recently recognized as a Glenwood Hot Springs Employee of the Month and guests routinely go out of their way to praise him to management.
The Devereux is awarded quarterly and recognizes Glenwood Hot Springs employees that demonstrate exemplary leadership qualities, including accountability, effective communications style, team building, professionalism, and problem solving.
About Glenwood Hot Springs
Glenwood Hot Springs is a historic Colorado landmark resort located along I-70 in Glenwood Springs, approximately 165 miles west of Denver and 90 miles east of Grand Junction. Famous for its enormous hot springs pools, other amenities include the Spa of the Rockies, the Glenwood Hot Springs Lodge; an athletic club, a restaurant open for breakfast and lunch, and a retail store specializing in swimwear. For more information, including press releases, a press kit, photos, and a live web camera, please visit http://www.hotspringspool.com/misc/press-room or call 800-537-SWIM (7946) or 970-947-2955.
Media Contacts:
Jeremy Gilley, Director of Sales and Revenue
Glenwood Hot Springs/Spa of the Rockies
970-945-3324
jgilley@hotspringspool.com
or
Vicky Nash, Resort Trends, Inc.
970-948-4923
pr@hotspringspool.com
---
Categories: Hospitality, Vacations and Travel, Travel, Transportation, and Hospitality News
Tags: Brian Jaimes, Devereux Award, Glenwood Hot Springs Lodge, Glenwood Springs, top employee
---
Glenwood Hot Springs
401 North River Street
Glenwood Springs, CO 81601
United States