Glenwood Hot Springs Lodge Named a Top 10 Hotel Pool by USA Today
The Glenwood Hot Springs Lodge scored a fourth place finish for Best Hotel Pool in the most recent round of USA Today and 10Best.com Readers' Choice Awards.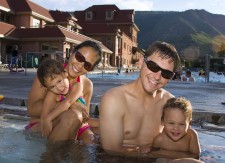 USA Today and 10Best.com announced the results of their 2016 Readers' Choice Awards, an ongoing contest that regularly presents new travel and hospitality-related categories on which readers can vote.  In the most current round of voting, the Glenwood Hot Springs Lodge placed fourth in the category of Best Hotel Pool. To compete, properties are initially sorted and nominated by a panel of USA Today and 10Best travel editors, the top 20 selected properties then compete for votes by getting the word out via social media. The property with the most votes wins.
"It is very flattering to be recognized as having one of the best hotel pools in the entire country," said Jeremy Gilley, Director of Sales and Revenue for Glenwood Hot Springs and the Spa of the Rockies. "Thank you to all of our loyal locals and visitors who voted for us."
After four weeks of voting, Glenwood Hot Springs Lodge's position on the leaderboard climbed steadily as the votes accumulated, going from 13th place, to 9th and finally to 4th place. "A contest of this variety really shows the power and impact of social media to reach people. It was thrilling to watch our standing on the leaderboard change as the contest drew to a close," said Gilley.
Glenwood Hot Springs Lodge was in elite company. Other finishers in the top half included the Four Seasons Resort in Orlando, Fla., Keswick Hall in Keswick, Va., the Berkeley City Club in Berkeley, Calif. and the Sheraton Waikiki Hotel in Honolulu, Hawaii.
USA Today and 10Best.com reach approximated 6.6 million readers daily. The Glenwood Hot Springs Lodge and other 2016 contest winners will be featured in an upcoming Friday newsprint edition of the USA Today and also in the travel section of usatoday.com.
For more information about Glenwood Hot Springs, please visit www.hotspringspool.com.
---
Categories: Travel, Accommodations and Lodging, Vacations and Travel
Tags: best hotel pool, Colorado hot springs, Glenwood Hot Springs, Glenwood Hot Springs Lodge, hot springs pool, top hotel pool
---

Vicky Nash
Resort Trends, Inc. - tourism communications, Glenwood Hot Springs
Glenwood Hot Springs
401 North River Street
Glenwood Springs, CO 81601
United States