Glenwood Hot Springs is Spring Break Ready, Are You?
It's not as easy as it looks; find out how Glenwood Hot Springs preps for spring break in Colorado.
News
-
updated: Mar 14, 2017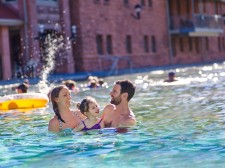 Outside of the summer months, the last two weeks of March are among the busiest times for the world-famous hot springs pool in Glenwood Springs, Colorado. Getting ready for spring break at Glenwood Hot Springs requires planning and preparation; here's a glimpse of what it takes to welcome the hundreds of families that will come to swim, soak, play and recharge over the school's-out holiday.​
Spring cleaning. On Wednesday, March 1, Glenwood Hot Springs drained, cleaned and made routine repairs to both the big pool and the therapy pool. This process typically includes power washing, removing mineral buildup, repainting markings on the pool's floor and checking and replacing light bulbs. In all, it takes a full day to drain the pools, do the required work and refill the pools.
Water works. It's during spring break that the property officially opens its two waterslides, the Shoshone Chute and the Avalanche Falls. Kids of all ages love the slippery ride that has a drop equivalent to a four story building. Though slide operation is weather dependent, beginning on March 18, they are usually open during the warmest part of the day, from Noon to 5 p.m.
Made for shade. Spring break is also when we haul out our beautiful, spacious cabanas. The tents provide both shade and privacy, an especially nice feature for families with young children who may need naps or time out of the sun. Cabanas are furnished with cushioned loungers and chairs and stocked with a cooler filled with water. Starting on March 18, rent cabanas for either a half or full day.
Full staff ahead. Spring break means everyone shows up for work; it's all hands on deck from management to housekeeping. Whether you're checking in at the Hot Springs Lodge, soaking in the pool, getting a massage at the Spa of the Rockies, enjoying an ice cream at the Snack Bar, a meal at The Grill or shopping for souvenirs at The Shop, our staff is here to make your spring break the best it can be.
The bottom line is we're ready for spring break. Are you? Find out more and make reservations at www.hotspringspool.com.
---
Categories: Vacations and Travel, Tourism, Resorts
Tags: Colorado spring break, Glenwood Hot Springs, Glenwood Springs Colorado, Glenwood Springs hot springs, Spa of the Rockies, spring break in Colorado
---
Glenwood Hot Springs
401 North River Street
Glenwood Springs, CO 81601
United States