Family Life Celebrations at Glenwood Hot Springs Resort
Family gatherings are special occasions that often only come around once in a lifetime. Celebrate life's big events at the world's largest hot springs pool in Glenwood Springs, Colorado.
News
-
updated: Jan 9, 2018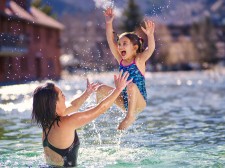 Mark your family's milestones by hosting a crowd-pleasing event like a family reunion, birthday party or special anniversary at Glenwood Hot Springs Resort. The geothermal resort has been hosting memorable family-friendly events for generations. In fact, it's the perfect place for every member of your tribe—from grandparents and extended family to parents, teenagers and toddlers.
No matter your age, the Glenwood Hot Springs Pool is a year-round, people-pleasing destination with one giant pool for swimming, diving and playing and another for splash-free soaking. Staying at the Glenwood Hot Springs Lodge, located just steps away, is especially convenient for groups. Both pool admission and a hot breakfast are included with every stay.
Things to do while you're here include a grown-up's spa day at the Spa of the Rockies, taking a yoga or fitness class together at the Athletic Club and for the kids, weather permitting, splashing and slipping down the resort's two water slides. If your family wants a special space to convene, the Lodge can arrange for meeting space, catering and multimedia services.
Because Glenwood Hot Springs Resort is located in downtown Glenwood Springs, your group can easily walk to nearby shops, dining and other attractions. Some family-friendly group activities that have been a hit with guests in the past include biking in Glenwood Canyon, taking the tram to Glenwood Caverns Adventure Park, puzzling your way out of an escape room and hiking to Doc Holliday's Grave.
Don't let those special life celebrations slip by. Take a look at your calendar today and plan for your upcoming event now. Find out more about Glenwood Hot Springs Resort at www.hotspringspool.com.
---
Categories: Travel, Vacations and Travel, Family Travel
Tags: anniversaries, birthdays, celebrations, family friendly, Glenwood Hot Springs, Glenwood Springs, Visit Glenwood
---
Glenwood Hot Springs
401 North River Street
Glenwood Springs, CO 81601
United States