Entrepreneur & Humanitarian: The Lasting Legacy of Hank Bosco
Henry "Hank" Bosco's contributions in the hospitality industry and his generosity to civic causes have forever impacted the community of Glenwood Springs and will continue to touch lives long into the future. Bosco passed away peacefully at the age of 94 on Monday, May 22.
News
-
updated: Jun 2, 2017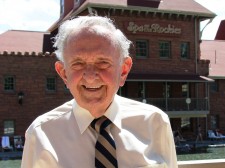 Glenwood Springs, Colo. (May 25, 2017) -- With a ready smile and a joke, Hank Bosco spread joy wherever he went - from the hotel lobby where he worked as a youth to the boardroom where he was chairman even into his 90s. His easy charm made him a natural in the world of hospitality and his magnanimity made a difference in the lives of countless people.
"He was one of the very few people in town recognizable only by his first name. When someone mentioned 'Hank' you knew just who they meant. Hank's genuine connection to people and keen business sense helped build the community as we know it. We would not be the world-class resort we are without Hank Bosco. He will be greatly missed," said Marianne Virgili, President of the Glenwood Springs Chamber Resort Association.
A Glenwood Springs native, Bosco was born in 1922, the only child of Italian immigrant parents. As a youngster he lived and worked in his parents' hotel, the Star Hotel on Seventh Street. In 1938, his father, Mike Bosco, purchased the adjacent Denver Hotel. Bosco spent his youth learning the ropes of the hospitality industry and the value of providing top-notch customer service. After graduating from high school in 1940, he attended the University of Colorado, and in his junior year enlisted in the Army Reserves. Hank went on to serve as a rifleman with the 70th Infantry Division and saw action in France, Germany and Belgium during WWII which resulted in a Bronze Star Medal for heroic achievements and service.
Upon returning to Glenwood Springs, Hank and his father expanded the Denver Hotel. In 1950, he married the love of his life, Dorothy "Dottie" Cowles and the couple had four children. A few years later, in 1956, a life and community altering opportunity presented itself. Frank Kistler, then owner of the hot springs decided to sell. At the time there were some concerns the pool would become privately owned and be permanently closed to the public. To prevent this outcome Bosco and 21 other families scraped together enough cash to make the down payment to purchase the Hot Springs Pool. The property, though historic and a popular tourist destination, was in dire need of repair. Bosco and other board members wisely reinvested profits thus reinvigorating the iconic landmark, and in the process created one of Colorado's most well-known hot springs destinations.
From those early days Bosco served on the Hot Springs' Board of Directors; in 1976 he became the General Manager. He later served as Board President until 2012 and then as Chairman of the Board until he resigned in February 2015. In 2009, Bosco was recognized for his many entrepreneurial accomplishments over his lifetime and inducted into the Colorado Business Hall of Fame.
While Bosco had a head for business, his heart was invested in the wellbeing of his community and fellow citizens. Possessed of a keen sense of civic duty, he served on the City's Planning and Zoning Commission, was a city councilor, a member of the Elks Lodge and Club 20, as well as a member of the Board of Directors of the Valley View Hospital Association. Bosco was also involved with Community on the Move and served on the Board of Directors of both First National Bank and Mesa National Bank. One of Bosco's favorite local charities and one its charter supporters is YouthZone, a non-profit dedicated to providing opportunities for youth to be responsible, contributing members of their families and society.
In 2015, the Glenwood Springs City Council honored Bosco for his lifetime achievements with a state-issued proclamation declaring April 17, Hank Bosco Day. The proclamation included a congratulatory letter from United States Senator Michael Bennet and a Congressional Tribute prepared by Congressman Scott Tipton. The tribute was also read by Tipton on the floor of the U.S. House of Representatives and submitted into the Congressional Record.
Hank was fond of saying, "Anything I may have accomplished during my lifetime, I owe to the blessing of being able to surround myself with so many close friends, fellow employees and advisors. I humbly owe any successes to them, and any of my failures are mine alone."
About Glenwood Hot Springs
Glenwood Hot Springs is a historic Colorado landmark resort located along I-70 at Glenwood Springs, approximately 165 miles west of Denver and 90 miles east of Grand Junction. Famous for its enormous hot springs pools, other amenities include the Spa of the Rockies, the Glenwood Hot Springs Lodge; an athletic club, a restaurant open for breakfast and lunch and a retail store specializing in swimwear. For more information, including press releases, a press kit, photos and a live web camera, please visit http://www.hotspringspool.com/misc/press-room or call 800-537-SWIM (7946) or 970-947-2955.
Media Contact:
Jeremy Gilley, Director of Sales and Revenue​
Glenwood Hot Springs/Spa of the Rockies
970-945-3324
jgilley@hotspringspool.com
or
Vicky Nash
​Resort Trends, Inc. – media communications for the travel & tourism industry
970-948-4923
pr@hotspringspool.com
---
Categories: Hospitality, Travel, Travel, Transportation, and Hospitality News
Tags: colorado hot springs, Glenwood Hot Springs, Hank Bosco, hot springs resort
---

Vicky Nash
Resort Trends, Inc. - tourism communications, Glenwood Hot Springs
Glenwood Hot Springs
401 North River Street
Glenwood Springs, CO 81601
United States