Community Matters: Glenwood Hot Springs Quietly Supports Dozens of Local Organizations
Philanthropy is an understated affair at Glenwood Hot Springs where giving back is as natural as the hot springs themselves.
News
-
updated: Mar 16, 2017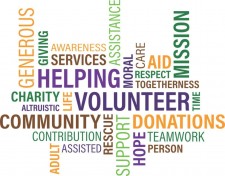 Healing and rejuvenating are two words that are often used to describe the geothermal water at Glenwood Hot Springs, the world's largest mineral hot springs pool; those words also underscore the resort's commitment to improving the lives of individuals out of the water. Glenwood Hot Springs supports a diverse group of organizations that help all kinds of people, though you wouldn't know it because the resort's management likes to keep its charitable giving on the down low.
"Glenwood Hot Springs doesn't toot its own horn when it comes to philanthropy," said Jeremy Gilley, Director of Sales and Revenue for Glenwood Hot Springs and the Spa of the Rockies. "Management quietly goes about making donations and supporting groups without making a big fuss about it. We recently revised our media kit and I looked at the list of charitable donations and thought, wow, I bet people would love to know about this," said Gilley.
Gilley sold the idea to management which reluctantly agreed to the writing of this blog post about its community-oriented good works. "Philanthropic giving is just something they do. It's an integral part of their DNA and their corporate philosophy," said Gilley, explaining management's tendency to shy away from publicity on this topic. "I think it's worth noting however, that Glenwood Hot Springs through many organizations has helped countless people over the years, from young students to injured war veterans."
Some of the largest contributions have gone to Valley View Hospital Foundation to help fund the Heart and Vascular Center and the Glenwood Springs Whitewater Recreation Area. In addition to hundreds of in-kind donations in the form of pool passes, spa treatments and overnight accommodations, Glenwood Hot Springs donates thousands of dollars per year to a variety of causes. Some organizations that stand out are Lift-Up, YouthZone, Summer of Music concerts and Special Olympics, as well as service groups like the Lions, Rotary and Kiwanis Clubs.
Glenwood Hot Springs is also a strong supporter of youth and education. Every year, it makes contributions to numerous youth-oriented groups such as Boy Scouts, Girl Scouts and high school programs like Mock Trial. Rather than throwing away gently-used or outdated fitness gear and equipment, the Glenwood Hot Springs Athletic Club donates these items to the Athletic Department at Glenwood Springs High School for students to use as part of the school's physical education program. Glenwood Hot Springs also funds annual scholarships for deserving high school students to pursue their higher education goals.
Glenwood Hot Springs has supported and continues to contribute to a number of worthy causes including the following:
•    Valley View Hospital Foundation
•    Glenwood Springs Whitewater Park
•    Glenwood Hot Springs Scholarship Fund
•    YouthZone
•    Boy Scouts & Girl Scouts
•    Youth for Christ
•    Junior Achievement
•    LIFT-UP
•    Salvation Army
•    Frontier Historical Society
•    Summer of Music Community Concerts
•    Glenwood Springs Community Center Aquatic Center
•    Glenwood Springs Center for the Arts
•    Mt. Sopris Nordic Council
•    Hospice of the Valley
•    Special Olympics
•    Community Service Organizations: Lions Club, Rotary Club, Kiwanis Club
•    Glenwood Springs High School Corporate Sponsor
•    Glenwood Springs High School Mock Trial Program
•    River Bridge Regional Center
•    CASA of the Ninth Judicial System
•    Access After School
•    Roaring Fork Outdoor Volunteers
•    Glenwood Springs Downtown Market
•    National MS Society
•    Valley View Hospital Rally the Valley
•    Tri-Glenwood Triathlon
•    KDNK
•   Community Concerts
Find out more about Glenwood Hot Springs at www.hotspringspool.com.
---
Categories: Tourism, Philanthropy, Travel, Transportation, and Hospitality News
Tags: charitable giving, Colorado hot springs, Glenwood Hot Springs, Glenwood Springs Colorado, philanthropy, Spa of the Rockies
---
Glenwood Hot Springs
401 North River Street
Glenwood Springs, CO 81601
United States