Annig Raley: Keeping her Balance after 25 Years
If Glenwood Springs had a resident fitness guru, Annig Raley would be a top contender. The exercise instructor recently celebrated her 25th anniversary of teaching at the Glenwood Hot Springs Athletic Club.
News
-
updated: Oct 9, 2017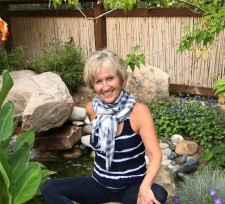 A quarter century doing anything is a long time. That kind of time and life experience produces powerful insights. So what have Raley's years as a fitness instructor taught her? It's all about balance—in a yoga pose and in life.
Growing up in Brooklyn, New York, close to the beach, Raley developed a love of swimming that acted as a counterpoint to her intensive music studies and piano performances. But when she moved to Grand Junction, Colorado years later, she missed that part of her life so much so that she begged friends and neighbors to allow her to swim in their backyard pools in exchange for cleaning them.
Fast forward to 1981, the year Raley and her husband Howard moved to Glenwood Springs. One of the best parts of her new home was the gigantic, outdoor mineral hot springs pool located right in the middle of town. Being a natural born go-getter, Raley started teaching water aerobics through Colorado Mountain College; pretty soon she was leading water-based fitness classes five times per week for all ages, including some for seniors.
In 1992, the Athletic Club approached her to teach classes—that was 25 years ago. Raley recalls spending hours making mix cassette tapes to play on a boombox for her pool-based classes. "It took more time to make those tapes than teach the class; it's funny to think about now," she said.
Everything changed in 2000, when a rafting accident left her with a broken nose and a traumatized body. "Someone suggested I try yoga to alleviate my back pain. You could say it was the beginning of a ripple effect," she explained.
Since then, Raley has fully immersed herself in the practice of yoga which eased and ultimately eliminated the pain from her accident. Over her career, she has studied with many prominent yogis. Raley is 500-hour certified through Tias Little and the Prajna Yoga School in Santa Fe, New Mexico. Currently, she's working toward her 1,000-hour certification, an elite threshold.
In 2003, Raley developed her own brand of water-based yoga—H2Yoga©, to improve flexibility, cardiovascular endurance and strength. The classes, as well as one-on-one private sessions have provided tangible results for her students as well, helping some of them to avoid surgery and other medical interventions. People ranging in age from millennials to senior citizens take Raley's classes, often traveling from far and wide to attend. H2Yoga classes take place in the Glenwood Hot Springs Pool every Monday at 9 and 10 a.m. They are free with pool admission.
And the ripple effect continues. Every month, Raley also leads First Fridays at the Athletic Club, an educational mini-seminar that is free to Club members and open to the public for a small fee. Each session focuses on a part of the body as seen through the lens of the yogic tradition. Past topics have included hips, ankles, shoulders, feet, and of course balance.
For Raley and her students, yoga class is a perfect place to practice balance—to feel the tension between holding and falling out of a pose, to be mindful in the midst of chaos, to prepare for life's uncertainties. "Balance is a dance; and for me, it's the most exhilarating ride you can be on," said Raley.
To find out more about Raley's classes or First Friday seminars, please visit www.hotspringspool.com.
---
Categories: Sports, Fitness, and Recreation, Yoga / Meditation, Travel, Transportation, and Hospitality News
Tags: Annig Raley, exercise classes, Glenwood Hot Springs, Glenwood Springs, water yoga, yoga
---
Glenwood Hot Springs
401 North River Street
Glenwood Springs, CO 81601
United States