Add A Day Trip to Your Next Glenwood Hot Springs Vacation
Make Glenwood Hot Springs your home base for Colorado hot springs relaxation, then get out and see the sights nearby.
News
-
updated: Mar 23, 2017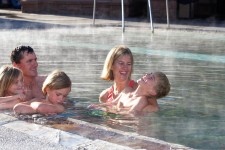 First things first, settle in at the Glenwood Hot Springs Lodge where your stay always includes unlimited admission to the Hot Springs Pool and breakfast at the poolside grill. After a relaxing soak and perhaps a massage or body treatment at the Spa of the Rockies, take some time to explore the surrounding area. Glenwood Springs, Colorado is close to natural wonders, historic sites and cultural opportunities.
Ideas for day trip itineraries include:
●     Hanging Lake. Located in scenic Glenwood Canyon, Hanging Lake is one of Colorado's most popular hiking trails. To avoid crowds, hike during the off-season or first thing in the morning. A rigorous, uphill haul, the sight of the pristine lake and falls make it all worth the effort. Local's tip: Get there early during the summer!
●     Doc Holliday's Grave. Linwood Cemetery, the final resting place of gunslinger and Western icon John Henry "Doc" Holliday, is a just a short hike from town. Doc's marker glibly states "He died in bed," which apparently came as a surprise to the gambling gunman who expected to die in fight.
●     Maroon Bells. The most photographed peaks in North America, the Maroon Bells are within an hour's drive of Glenwood Springs. In addition to the photogenic mountains, snap-worthy views include Maroon Lake, surrounded by fields of wildflowers.
●     Aspen. Best known for its skiing and for hosting the ESPN X Games, Aspen, Colorado is a unique blend of high end and low key; Hollywood glitz meets Western history. Downtown Aspen is perfect to explore on foot or cross the Continental Divide with a drive up Independence Pass.
●     Wine excursions. Tour the vineyards of Colorado wine country. Palisade, just a short drive west of Glenwood Springs, is a prime grape growing region known for varietals such as Cabernet Sauvignon, Chardonnay, Merlot and Sauvignon Blanc.
After all the sight-seeing, head back to home base for an end-of-the-day soak in the Glenwood Hot Springs Pool. Find out more and book lodging reservations at www.hotspringspool.com.
---
Categories: Vacations and Travel, Tourism, Resorts
Tags: Aspen, Aspen Colorado, Colorado hot springs, Colorado wine country, Doc Holliday, Glenwood Canyon, Glenwood Hot Springs, Glenwood Springs Colorado, Hanging Lake, Maroon Bells, Spa of the Rockies
---
Glenwood Hot Springs
401 North River Street
Glenwood Springs, CO 81601
United States